Dr. Mark Pace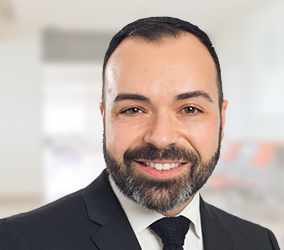 Dr. Mark Pace is a consultant endocrinologist specialising in the care of patients with thyroid disease, thyroid cancer and other endocrine tumours. He is also experienced in the treatment of osteoporosis, testosterone deficiency and pituitary, parathyroidandadrenal disorders.
Dr. Pace graduated with honours from Monash University in 2002 and completedspeciality physician training at The Alfredin Melbourne. He was admitted as a Fellow of the Royal Australasian College of Physicians in 2010. He subsequentlyundertook an 18-month clinical fellowship at Peter MacCallum Cancer Centre in Melbourne, with a focus on the management of thyroid cancer and neuroendocrine tumours. In 2013, he was accepted into the thyroid cancer clinical and research fellowship program at Memorial Sloan Kettering Cancer Center in New York, where he completed a further 12 months of post fellowship training.
Dr. Pace consults privately at the Melbourne Thyroid and Endocrine Centre in North Melbourne and Cabrini Medical Centrein Malvern.In addition to his private practice, Dr. Pace is a Visiting Medical Officer in the Departments of Endocrinology and Diabetes at The Alfred and the Royal Melbourne Hospital and serves on the multidisciplinary thyroid cancer boards at each institution. He also holds an honorary position with the Department of Endocrinology at Monash Health.
Committed to the delivery of best-practice care, Dr. Pace incorporates the latest evidence-based guidelinesand treatmentsto optimise patient outcomes. He regularly attends national and international endocrinology meetings, has authored a number of peer-reviewed publications and presented at conferences locally and abroad. Additionally, he is actively involved in teaching and mentoring junior medical staff and students.
Dr. Pace works in a highly collaborative and interdisciplinary approach to provide a comprehensive service individualised to patient needs. He strives to improve the patient experience and engages patients to become informed and active partners in their health care
Qualifications
Fellow of the Royal Australasian College of Physicians - FRACP
Bachelor of Medicine Bachelor of Surgery - MBBS (Hons)
Medical Registration
Australian Health Practitioner Regulation Agency
Professional Affiliations
Endocrine Society of Australia
Australian Diabetes Society
American Thyroid Association
The Endocrine Society
Public Appointments
Department of Endocrinology and Diabetes -Alfred Health
Department of Diabetes and Endocrinology -Melbourne Health
Private Accreditation
Cabrini Health
Epworth Health